Wandsworth Music Blog – Orchestral Course
Wandsworth Orchestras – Half Term Coaching with the Philharmonia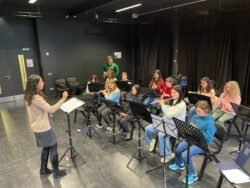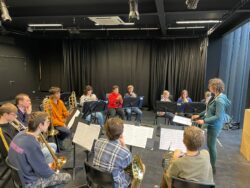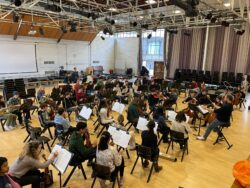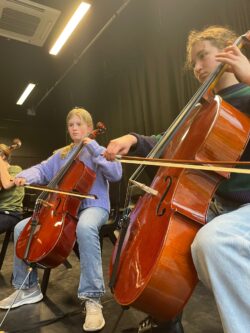 Half term is often a time away from the normal routine at school and in the week, a chance to rest, recoup and rejuvenate. However, for the talented young musicians of the Wandsworth Music Academy, it's an excellent opportunity to work and rehearse the music for two fabulous concert opportunities. The Wandsworth Concert Orchestra have a performance on Thursday 16th March at the Clore Ballroom, at the Royal Festival Hall. WCO have been busy learning 12 pieces, the repertoire ranging from Brahms' Hungarian Dance No.5 to music to celebration Cirque du Soleil!  This performance is a pre-concert event to the Philharmonia concert, and will feature on our next blog. The Wandsworth Philharmonic Orchestra are preparing for their debut at the Royal Albert Hall at the Brighter Sounds concert on Tuesday 28th March.  As well as accompanying the massed choirs they will be playing Rhapsody in Blue and Zadok the priest. We hope to see you at both concerts! 
On the first two days the Orchestras spent the morning either in sectionals, or in a full orchestra rehearsal. In the afternoon they would swap. On Day 1 these rehearsals were led by Wandsworth staff and tutors. It was amazing to see how much they'd progressed by the end of day 1! On the second day the pupils were lucky enough to be coached by members of the Philharmonia Orchestra. Adrian Varela (violin), Yaroslava Trofymchuk (Cello), Adam Wood (trumpet), Anna Kondrashina (flute) and Luke Whitehead (Bassoon). Walking into the various rehearsals it was clear to see the orchestra members were truly inspired by the playing and coaching experience provided by the Philharmonia players. Our students were able to focus on details of their playing such as phrasing and breathing – it was incredible to have such high class performers working on the intricacies of each instrument.  
At the end of day three, the Orchestras performed to each other. Each ensemble proved an encouraging audience and it was great for everyone to see how much the other ensemble had grown! WCO performed Faure's Pavane, Bohemian Waltz by Coleridge Taylor and 'Sweet Dreams' by the Eurythmics. WPO performed Rhapsody in blue and the last movement of Dvorak's Symphony No.8 (a piece they had only seen for the first time the day before!). It was clear to hear how much the pupils had gained from the rehearsals and experiences of the course.  
 Members of the youth council interviewed some members of the orchestras about their experiences during the half term course. Please check out the Wandsworth Youth Council Instagram page and our various social media platforms to see these, and other videos and pictures from the course!