Wandsworth Music Tour 2023
Czechia & Slovakia Tour 2023 
On the 20 July, 60 members of the Wandsworth Philharmonic Orchestra & Wandsworth Jazz Orchestra departed Wandsworth for an 8 day tour to Czechia and Slovakia to perform a busy schedule of 5 concerts! After more than 24 hours on the coach, and numerous traffic jams we eventually arrived at our hotel in Olomouc, where we would stay for the next 3 nights. Needless to say we were all ready for a good nights sleep and a proper bed!
The next morning we were all well refreshed and ready to rehearse our challenging concert programme before our first concert of the tour at the cultural centre in the Winter Sports resort of Nové Město na Moravě. The orchestra performed to a packed audience, receiving a standing ovation. We were also pleased to help raise money for a local children's charity.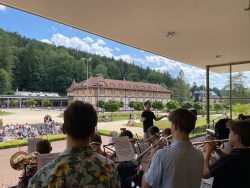 The following day we headed off to the beautiful spa town of Luhačovice to perform 2 concerts – an afternoon Jazz performance and an evening classical concert.
Both concerts were performed in front of appreciative audiences.
Monday was a busy day, as we packed up and moved out of the hotel in Olomouc and started our journey towards Bratislava. We stopped for lunch enroute at Kroměříž and had a chance to explore Kroměříž Castle and the castle gardens, which are UNESCO World Heritage Sites and are home to hundreds of peacocks!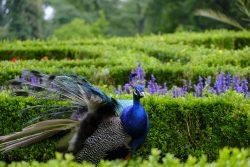 Refuelled after lunch we continued our journey towards Bratislava. However we had an evening concert to perform first, in the spectacular Jesuit Church in the town of Skalica.
The orchestra performed a challenging programme, including Mars & Jupiter from the Planets Suite, Mussorgksy's A Night on a Bare Mountain and the 4th Movement of Dvorak's 8th Symphony.
We were also delighted to feature some outstanding soloists;  Filip performing the Saint-Saëns Cello Concerto no.1 & Candice & Si Yun in Gershwin's Rhapsody in Blue.
We were also treated to an impromptu organ recital by Orion as the audience and local film crew entered the church.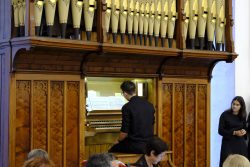 Our final day of the tour was spent exploring the historic city of Bratislava, whilst trying to dodge the torrential thunderstorms! After exploring the Bratislava Castle, the Cathedral and old town we headed off to our final concert of tour at the Pezinok Cultural Centre. The Orchestra once again performed with outstanding musicianship, earning a standing ovation from the large and appreciative audience. The audience were treated to 2 encores, conducted by guest conductor and alumni WMA member Theo Andre-Watson.
Once again, the summer tour was a roaring success! The level of musicianship went from strength to strength – Please check out recordings of the concerts on our YouTube channel.
Every year we say goodbye and thank you to our departing members, many of whom have been involved in Wandsworth Music ensembles for more than 10 years! They have grown into outstanding musicians and role models for our younger members and they have bright futures ahead of them!
Our attention now turns to another busy year ahead, including the 2024 Tour to Spain – look out for more details soon!
#makingmusicmatter